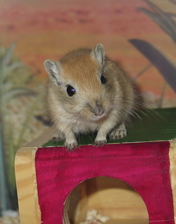 Here is a list of other sites on the Web where you can find additional information about gerbils. Click one of the links below if you want to jump directly to a specific category.
---



The American Gerbil Society (AGS). The AGS is the official gerbil organization of the United States. Its site features a Gerbil Care Handbook and genetics information.

The National Gerbil Society (NGS). The official British gerbil society's site includes a vast collection of information about gerbil care, health, and genetics. It also explains the history of the gerbil and has photographs of several gerbil ailments, such as overgrown teeth and scent-gland tumors.
---

The Gerbils Color Palette. View photos of all of the various gerbil colors.
Gerbils: The Complete Guide To Gerbil Care. This is, in my opinion, the best book out there about gerbil care!
Pup Development. This page shows photos of each day of a gerbil pup's development.
(We wanted to show you this excellent pup-development site but also need to add this note: Although gerbil pups are cute, make sure you do not jump into breeding. Gerbils have a lot of pups in a very short period of time. They must be separated into separate tanks within a matter of only weeks, and your home can quickly get overrun. Make sure you've learned a lot about gerbils and can find homes for hundreds of pups per year before you start breeding gerbils.)
GerbilSite - Behavior: Development Process Of A Nutmeg Pup. This page has many excellent photos of the day-to-day development of a nutmeg pup. You'll see the pup go from a tiny, hairless pup to a pup with light-colored fur, to a dark post-molt nutmeg young adult.
The Gerbil FAQ. The Web's gerbil FAQ (frequently-asked questions). All the basics are covered here.

Heavenly Heart Gerbilry. This site is full of gerbil goodies. You'll find a gerbil journal, gerbil care information, cartoons, a forum, and much more!
Gerbilation. Jaclyn's Information and Supplies links have some useful gerbil information to help you keep your pets safe and happy.
The Rogue Clan. Gerbil care guidelines, photos, and links. This site hasn't been updated in a long time, but it still has a lot of useful information.

Knolls Gerbils. The highlight of this site is its Gerbil Diet page, which details Knolls Gerbils' healthy, all-organic gerbil diet. You can also see the holiday gerbil cards Knolls Gerbils has sent over the years.
Gerbils and Your Health. This page at Shawsheen River Gerbils has information about the health risks sometimes associated with small pets. This page suggests precautions you can take, but it also provides information about why gerbils don't place you or your family at risk.
---


Gerbil Classifieds. Whether you are looking for new gerbils or trying to find homes for your own gerbils, this is a great place to visit. The AGS Classifieds is a very active list of available and wanted gerbils, as well as gerbil supplies, such as tanks, split cages, and exercise wheels. Anyone can post a message here. Although the area is hosted and monitored by the AGS, you do not need to be a member to read, post, or advertise.
PetFinder.com. Search for gerbils and other pets in shelters in your area. These pets need to find homes.
The ODP's List of Rescues & Shelters. Find a shelter or rescue group in your area. You'll find a very large, complete list of animal welfare organizations from which you can adopt a pet.
Small Angels Rescue - Frederick, MD. This rescue in Maryland specializes in small animals; including gerbils, hamsters, chinchillas, guinea pigs, and more. To inquire about gerbils at Small Angels Rescue, send a message to gerbils@smallangelsrescue.org. You can also find more information on the Small Angels Web site and on Petfinder.
Garden Of Eden Gerbils. There are many beautiful and friendly gerbils at Garden Of Eden Gerbils in Eden, Wisconsin. In fact, one of the Garden Of Eden Gerbils, Marshmallow, won Best In Show at the 2007 American Gerbil Society Midwest Show. Our gerbil Hallie came from Garden of Eden Gerbils. She's one of the nicest, friendliest gerbils we've known!
Sunset Starlet Gerbils. This is a great gerbil kennel in Michigan. The pups are hand-tame and friendly, and it's so obvious that Leah really loves all of the gerbils in her care. We adopted our gerbil Cassie from Leah of Sunset Starlet Gerbils, and we're so excited about how friendly and adorable she is.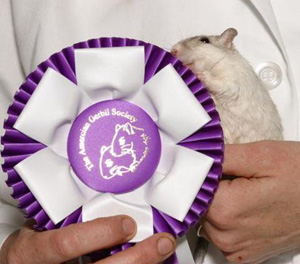 Black Wolf Clan. Our gerbils Mike and Toby were both from Black Wolf Clan. This kennel is located in Springfield, MO, and has a wide selection of gorgeous gerbils. Many of Black Wolf Clan's gerbils have been award winners in the AGS Gerbil Shows, including Herman's girlfriend Kadence, who won Best Of Opposite Sex at the 2007 Midwest Gerbil Show.
Double Star Kennels. Our gerbil Herman was born at Double Star Kennels. Double Star has produced award-winning gerbils in the AGS Gerbil Shows, including not only Herman but also his father Caramel, who placed 1st in the White Belly Class at the AGS Midwest Show two years before Herman did.

Autumnglory Gerbils. This is the kennel in Connecticut from which we adopted Matey ("Gobo"). Autumnglory raises exceptionally friendly and hand-tame gerbils! All of the pups in the litter were scrambling to hop in my hand and crawl up my arm. Chris of Autumnglory Gerbils does a great job taming her pups. :)
ABC Gerbils. This New Hampshire kennel is run by the president of the American Gerbil Society, who is an experienced gerbil breeder. On her Web site, you'll find plenty of photos, reasons to choose gerbils for pets, care guidelines, genetics information, and more.
Shawsheen River Gerbils. This kennel in Massachusetts not only breeds gerbils but also takes in many rescues and helps them find homes. Shawsheen River Gerbils also works with area schools to provide gerbil-related educational opportunities for students. The Shawsheen River Gerbils Web site has a lot of great information about caring for gerbils and features a Gerbilpedia.
GerbilsNW. Located in Oregon, this is one of the few gerbil kennels in the western portion of the U.S. GerbilsNW takes great care of its gerbils and raises wonderful pups.
Pocafiki Gerbils. This is a kennel in Oklahoma that has some really beautiful pups and a variety of colors. Contact information is available if you would like to adopt a pair of Pocafiki gerbils.
Windswept Rodents. This is the site of a gerbil breeder in Minnesota. You'll find gerbil genetic information, a gerbil poll, a care sheet, information about the kennel's gerbils, and a list of links to other sites.
Midnight Sun Rodentry. This site includes quite a bit of information about gerbils, such as their dietary needs. It also features detailed photos of each day of gerbil pups' development.
---

AGS' Health Issues page. The American Gerbil Society's guide to common health problems, diseases, and ailments of Mongolian gerbils.
NGS Ailments page. The National Gerbil Society's guide to common gerbil ailments.
Health Check. The NGS (National Gerbil Society) explains step-by-step how to give a gerbil a basic health check.
Vet Listing. The NGS provides this list of recommended vets. Listings are categorized by country. If you don't see a vet listed in your area, you should call vet's offices. In most areas, you can find a vet who will treat gerbils.
How to Guide: Ornacycline. A complete guide to giving gerbils ornacycline antibiotic, including photos of the pills and supplies you'll need.
---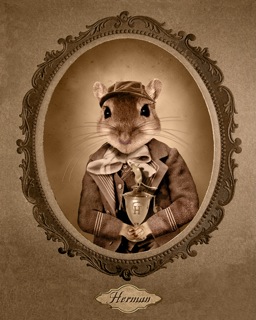 HotDigitalDog Custom Pet Portraits. This is so much fun. There's an artist on Etsy who creates fantastic Victorian-style portraits of your pet! We had one made of our gerbil Herman, as you can see to the left. You can read more about it at Herman's Victorian Portrait and order your own custom work in the HotDigitalDog Etsy Shop.

Paprika Card Designs. There is also an artist on Etsy who makes these lovely pet-themed greeting cards, including three gerbil designs. Please check out the Jolly Gerbils, Look Closely, and Spirit Gerbil cards in the Paprika Card Designs Etsy Shop.

MsCHIEFMAKER HAVEN. Gerbils, hamster, and a Chihuahua pose in photos set to original musical compositions.

Phoebe's Art. You know about elephants who paint and dogs who dance. Now meet the gerbil who sculpts. Phoebe, the spotted agouti, used her teeth to create fascinating sculptures from cardboard tubes. A fun site to visit!
---


Tidy Tuft Gerbils. There are some amazing closeup photos in the Tidy Tuft Gerbils album.
---


Pet Loss Grief Support Website. An online community for pet owners struggling with the illness, injury, or death of a pet. The site hosts an online, non-denominational candlelight ceremony in its chat room on Monday nights. A chat room is open at other times for those seeking emotional support. You can also submit your pet's name to a Special Needs or Rainbow Bridge tribute list.
APLB (Association for Pet Loss and Bereavement). A non-profit organization that provides support to those who are grieving the loss of a pet. The site includes a list of resources to help you cope with grief, make decisions about euthanasia, and help your children understand and deal with the death of a pet. You'll also find a list of pet-grief hotline numbers so you can find someone to speak with.
International Association of Pet Cemeteries' Member List. Find a pet cemetery that is an accredited member of the IAOPC (International Association of Pet Cemeteries.
Cherished Memories' Pet Cemeteries List. Find a pet cemetery near you with this state-by-state listing of pet cemeteries in the U.S., as well as a list of pet cemeteries in Canada and the U.K.
---

That Pet Place. A great place to find good deals on pet food, toys, bedding, and other supplies.
PetFoodDirect.com. Check here to purchase pet food, accessories, cages, and toys. PetFoodDirect.com is also the only seller of Gerri Gerbil pet food that we've found in the U.S.
---

Ehrenfried's Gerbil Links. Ehrenfried has collected an exhaustive list of gerbil links.
---
Back to the top of this links page.